The original rFactor was one of the most important racing sims ever released on PC. For starters, it was an open platform that encouraged modders to build free content, avoiding the heavy license fees that limit so many other developers. Literally thousands of mods including cars, tracks and entire racing series were built over the years, and it remains one of the most heavily modded PC games of all time. Secondly, it went on to be used as the basis for professional driving simulators in the racing and development industries, even going on to be used by F1 teams for driver training. It's no wonder that simmers are a little excited about rFactor 2.
The developer, ISI, recently announced that the game had left beta, but to call it a complete product is incorrect, as ISI's Tim Wheatley explains. "We decided that as rFactor2 is going to be a product updated (freely) over a long period of time, we're never going to be 'feature complete' (the definition of something to even be in beta). We're selling the product as-is, and at some point in the future, we'll start more actively marketing it". I dove into the most recent build of the game to see just how complete it, and discovered that it still has a long way to go before it's ready for the masses, but is already showing flashes of brilliance that set it apart from the rest.
Before I began racing, I had to deal with the installation of the game, but simmers know that jumping through hoops to get the game to work is all part of the fun. Like its predecessor, rFactor 2 relies upon mods, and installing them is a little more complex than it need be. After trawling a few forums and making a couple of posts I'd figured out how to install around 30 different track, as well as a handful of cars. According to Mr Wheatley, mod installation is soon going to get a facelift, stating "…at the moment, we are still transitioning from the "beta" phase, so in the future the downloading, sharing and joining process will force you to only need installed what you need to race… there is also a nice re-design coming to the mod manager, that will help a lot and people should understand the installation and updating of components more". Thankfully setting up my controls – the Fanatec wheel reviewed in this issue – was much easier, surprising considering this is usually the hardest task when starting a new sim.
Firing up an official ISI developed track, Lime Rock Park, a track I've driven around thousands of times in iRacing, I was very impressed at the flourishes that brought the course to life. A race attendant waved me onto pit lane, where I had to wait for a green light before proceeding onto the track. This gave me time to admire the richly detailed pit lane items, as well as a few not-so-pretty flashing textures. As I drove out onto the track, I could see race marshals manning the walls with flags, while 3D crowds cheered and blew horns randomly. It felt like a real, live race track packed with race fans, rather than the barren ghost town found in most other sims. Visually it was a mixed bag, with detailed objects let down by low-resolution textures and very flat lighting. Aliasing was also an issue, though forcing AA seemed to help the issue, while simultaneously breaking the game's HDR lighting.

A NOTICEABLE LAYER OF RUBBER BUILDS UP ON THE TRACK AS MORE LAPS ARE DRIVEN, CHANGING GRIP LEVELS



The track itself was the most surprising creature in the game, with the asphalt taking on a life of its own the longer I drove it. At the start of the race it's devoid of any rubber, but a noticeable layer builds up as more laps are driven, changing grip levels. A downpour will make the surface notoriously slippery, unless you find the drier groove carved out by other cars. Mr Wheatley explains why this is all part of the game's philosophy of focusing on dynamic conditions. "Simply being faster than everyone else is the easy part, something you might even be born with, it's the unknown opponent – the conditions – that will stop you winning". Worrying words indeed for a driver who struggles enough with the simple task of learning to drive a car around an unchanging track!
Compared to the sterile yet intricate handling of iRacing, my current sim of choice, rFactor 2 feels radically different. It's not as harsh, with snap spins much less frequent, as oversteer is much easier to catch. The sensation of my tires dragging rubber around the course, also felt more organic; I could feel the difference between grip levels much more easily, even though it lacked the numerous jerks and twitches of the wheel that happen every second in iRacing. It's probably because the finer details, like bumps in the track, weren't up to the same level of iRacing's laser scanned recreations, but it didn't feel any less real, just… different.
Next stop was one of the many user-created tracks, Melbourne, another track I've scoured hundreds of times in F1 2012. Sadly here the rFactor 2 experience took a nose-ward dive, with basic, blocky graphics that looked totally inconsistent with the prior course. Exploring more of these user-created circuits revealed a huge flux in quality, a problem that plagued the original rFactor.
After spending a few hours behind the wheel, there's no denying that the base client needs a bit more polish before it's ready for a public showing, with the mod interface and graphics needing the most love. They're hopefully minor tweaks though, and the company plans to support it for the long term, claims Mr Wheatley, "We're going to be around for years, making rFactor2 better and better, and the best part is that we're planning to release every update, every car, every track, absolutely free to those own the product". The only issue then will be of mod quality control; while the ability to easily provide new, free content makes it a dream simulator for PC gamers, the disturbing dips in quality need to be controlled to maintain a baseline experience. Regardless, my recent test spin with the game has me rather optimistic about its future, and I also hope that more sims follow rFactor 2's lead and start to focus on the environment as much as the rest of the sim.
Screenshot
Racing is a dynamic sport, and for my money rFactor2 captures this changeable nature better than any simulation on the market. The sensation of its driving is pronounced and tangible. As I was drifting a Renault Megane through a fast left-hander at Mills Metro Park circuit and the car was being a Gallic pain in the ass. Too much oversteer through the entry had me struggling to keep the luridly sliding machine on the black stuff. I'd flatspotted both rear tires under braking (too much rear brake bias) and could feel the subtle thump-thump-thump from my Fanatec force-feedback wheel as the unevenly wearing -- and now D-shaped -- boots transmitted their protest. Good thing this was the last lap. It's a shame that my hard-fought victory won't really be celebrated, though, because as much effort as developer ISI has put into the driving, it has thus far neglected just about everything else.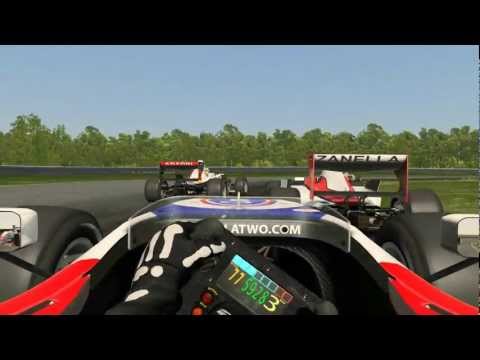 There's quite a bit of meat to rFactor2.
rFactor 2
remains far from finished, but it's now officially available for retail purchase (thus the review). This highly anticipated sequel to 2005's rFactor has carried a "work in progress" beta tag since 2011, but ISI recently decided to remove that label and sell it for $44. That price gets you get the complete game plus one year of online multiplayer ($12 per year thereafter, or you can buy an $85 version that comes with a lifetime subscription). Unfinished or not, there's quite a bit of meat to rFactor2 despite its woeful lack of presentation and side dishes.
Vehicle selection isn't huge, but there's an interesting cross section of classes, including modern sedans and GT cars (Renault Megane and Clio, Nissan 370Z and GT-R, Chevrolet Corvette C.6R); modern formula cars (Skip Barber 2000, Formula Renault, Williams F2, and a generic F1 machine); as well as some vintage open-wheel 1966 to 1968 F1, F2, and F3 racers. Each machine boasts its own unique driving dynamics, and mastering them demands time and patience, but I found my efforts rewarded. There's a wonderful liveliness to the driving model that both challenges and entertains.
Physical Properties
Solid physics are the cornerstone of any quality racing simulation, and rFactor2 handily delivers the goods here. Cars behave realistically and predictably -- a '68 F1 machine on treaded bias-ply tires isn't going to brake or corner on par with a modern single-seater -- and each racing class provides a distinct and singular driving experience that'll absolutely delight wheel and pedal-equipped gamers. For others, I found it playable with a joystick (or even a gamepad) but I had to employ physics-deadening aids like traction control and ABS brakes to accommodate them.
They may look like F1 cars, but the license-less RF2 calls them ISI Formula Masters.
ISI's new tire model factors in heat, durability, and driver abuse to produce uneven wear, flatspots, and even tire graining if you overdrive and overheat your rubber through brake lockups, excessive sliding, or a poor setup. You may also have to contend with day to night transitions, changing weather -- moving rain showers can affect different sections of the circuit -- and evolving grip conditions as the sim's optional Real Road feature progressively "rubbers in" a green track through the race weekend.
rFactor is the most mod-friendly racing simulation out there.
There are only eight tracks in the current release -- four modern circuits, a trio of classic '60s venues, and the fictional Mills Metro Park carryover from rFactor1 -- and, although none of the real-world locales can claim the laser-scanned accuracy of iRacing, they're still convincing representations. This is rFactor, however. It's the most mod-friendly racing simulation out there, so that sparse collection should increase exponentially as the modding community starts contributing.
Where's the Game?
As much as I enjoyed rFactor2's extensively configurable solo race format, there isn't any sort of proper gameplay structure. There's no career or championship mode to engage you, so you're limited to single-weekend events against the well-behaved AI or a sparsely populated (albeit smooth) multiplayer game that's still a work in progress. Graphics are similarly hit-and-miss and, while the new HDR, bloom, and heat-distortion effects represent an upgrade from rFactor1, rough edges like unconvincing wet-weather visuals and an absence of detail on some of the cars is off-putting.
rFactor2's innovative physics and ambitious new weather and track dynamics may keep serious sim racers like myself logging seat time, but that goodwill will dissipate quickly if some of these more glaring deficiencies aren't dealt with quickly. ISI's track record at this kind of stuff is solid, though, so I'm hopeful we'll see a good sim develop into a great one over the next year or two.
MINIMUM:
CPU: 2.4 GHz Intel Core 2 or 2.4 GHz AMD Athlon x2
Memory: 2 GB
Video Card: nVidia 8600 GT or ATI/AMD 3850
Video Memory: 256MB
Operating System: Microsoft Windows XP, Windows Vista, Windows 7
DirectX: 9.0c
Storage: 4 GB
RECOMMENDED:
CPU: 3.0 GHz Intel Core 2 Duo or 3.0 GHz AMD Athlon II x2 or better
Memory: 4 GB+
Video Card: nVidia 250 GTS or ATI/AMD 4870 or better
Video Memory: 512MB+
Operating System: Microsoft Windows Vista 64bit, Windows 7 64bit
Storage: 4 GB+
Notes:
1 - 2008 C++ Runtimes SP1 required (included with installer).
2 - rFactor 2 executable is 32bit. 64bit OS recommended above to allow more than 4GB RAM.